Convention Host & Emcee
Many organizations bring David back to host their events year after year as an Emcee and Moderator. As such, he'll bring short bursts of energy onstage between awards at a single ceremony, or between speakers throughout the entire conference. He has creatively opened General Sessions in front of thousands, moderated serious panel discussions, closed programs with a "bang" and most importantly kept the event flowing smoothly in an entertaining and memorable fashion.
When David hosts General Sessions he customizes his opening material to welcome and entertain the attendees, introduce speakers, interview guests and moderate panels. Some of his interview subjects have included Senator Bob Dole, Pulitzer Prize-winning humorist Dave Barry, former Speaker of the House Newt Gingrich, and political experts James Carville and Mary Matalin.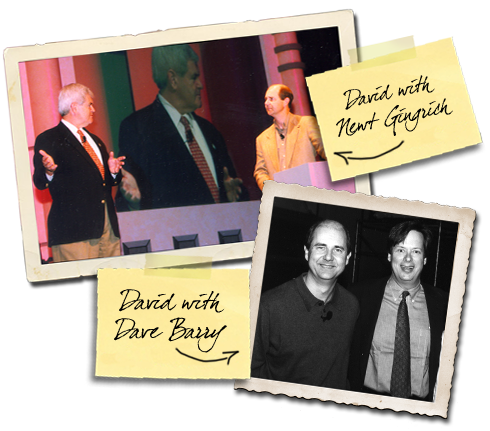 Here are just a few organizations that have invited David to their stage to host their meetings.
Alamo Car Rental
United States Telephone Association
Defense Contract Management Agency
National Association Of Counties
America's Community Bankers
Paint and Coatings Association
David has also written and produced specialty material for:

General Electric Investments in Paris and Dublin
Eisenhower National Security Conference
La Quinta Hotels
Unisys
If you would like David to send you a DVD of his presentations please contact him here.
All material on this website is copywrited.