Motivational Speaker
"Enabled us to close the meeting on a high point!"

National Rural Electric Cooperative Association
David has honed his communication skills for 30 years as a professional actor in movies, television, radio and on stage. He is also an Emmy-winning television writer and published playwright who has been produced off-Broadway.
It is that unique mix of show-business creativity and real-business know-how that makes him the perfect speaker for corporations and associations of all types. Whether his topic is teamwork, personal performance, communication or leadership, he delivers it all with unbridled enthusiasm, great good humor and a quarter century of real world experience.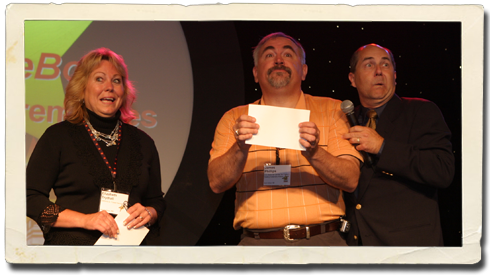 Windows Media Player clip
QuickTime clip
David's most requested programs:
The Act of Success
A humorous exploration of the creative methods used by the most successful performers in show business and how they relate to peak performance in business. David recounts hilarious personal anecdotes from his years in front of the camera, and translates those performance skills into valuable business skills. Every attendee becomes a star during this memorable presentation.
Direct to the Top
How do you learn the secrets of Great Leadership? As an award-winning director who has coached CEO's and Executive Teams, David reveals how the world's greatest Directors (movie and corporate) make magic and move mountains to create their vision for all the world to see.
Star Communicators
With over 30 years as a professional actor, working in movies, television, radio and on stage, David knows how to get his message across. He'll share his secrets of great communication with your group just as he has with Executives across the nation. He might even teach you how to listen!
David will custom-craft his Keynote or Seminar to underscore the theme of your event as he reveals cutting-edge techniques employed by successful corporations around the world.
If you would like David to send you a DVD of his presentations please contact him here.
All material on this website is copywrited.