Producer/Director
For over fifteen years David DeBoy has been putting his vast expertise to work behind the camera.
His resume includes projects that have involved sound stages and professional actors, as well as "run and gun" videos where "real people" are the stars and the setting is offices or expositions.
His goal is always to create the best product possible on time and within or under budget. And he's pretty good at it. Just ask all of those who continue to hire him year after year.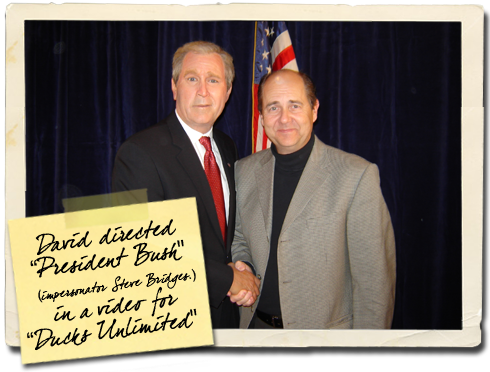 TV COMMERCIALS
Sunny's "Back To School" - Vision Award Winner - Director
Mid-Atlantic Milk Marketing Association - Telly Award - Producer
Record and Tape Collector - Producer
CABLE
Sisters of The Good Shepherd - American Video Award - Director
CORPORATE
Kraft Foods International – "Kraft Cares" – Producer/Director
Black and Decker – "The Race" – Director
Legg Mason – "Ethics" - Director
Ricoh Corporation - "Aficio 2000 Copier" - Director
Rite Aid - "Mission Profitable" - Director
Department of Energy – "The Exposition" – Producer/Director
United States Postal Service - "EAS - Security and You" - Director
Credit Union National Association - "Straight Talk" - Director
If you would like David to send you a Producing/Directing DVD please contact him here.
All material on this website is copywrited.