Team Builder
"Rallied and inspired the audience of over two thousand attendees!"

United Way

"Injected plenty of fun, yet delivered a powerful message about teamwork that everyone brought home."

GSA Federal Supply Service
Buckle Your Seat Belts! David gets your attendees involved!
Thatís because heís a Producer, Director and Writer who has created award-winning message materials for Fortune 500 companies for twenty years. And David utilizes his expertise in show-business and real business to deliver his uniquely entertaining and memorable message on Communication, Teamwork, Leadership and Creativity.
Keynote: Team Fun-damentals
In this Keynote Presentation or Seminar Session, David DeBoy will reveal the secrets of how successful teams listen to one another, share best practices, communicate more efficiently, and arrive at better decisions faster. But make no mistake - this is not some abstract, academic examination of bookish business theorems.
This is fun!
Speaker, Team Builder, or Emcee, David will deliver a burst of energy and humor that brings any audience to their feet!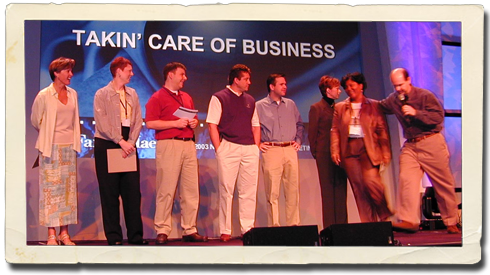 Team Building

Windows Media Player clip
QuickTime clip
"...a fast-paced, brilliant performance, using a combination of the profane and the profound to demonstrate the FUN-damentals of teamwork."

Baltimore County Librarian Newsletter
The Conductor
Imagine David conducting your attendees in a symphony of fun! Heíll involve your entire group in a crescendo of laughter and confetti that will send them out of the room with a great attitude and new mindset geared at a higher level of personal and group performance!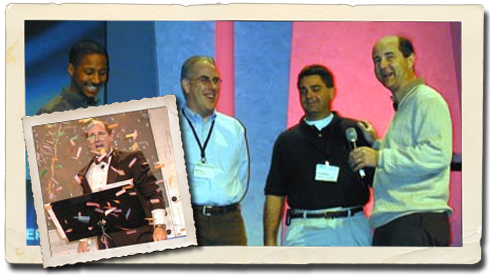 Conductor

Windows Media Player clip
QuickTime clip
Here are just a few organizations that have used David's Team Building expertise:
Fannie Mae
CGI-AMS
National Business Travel Association
Points of Light Foundation
American Management Services
American Home Mortgage
Columbia National Incorporated
General Services Administration
If you would like David to send you a DVD of his presentations please contact him here.
All material on this website is copywrited.